In the fall of 2019, Innovative Composite Engineering worked with a boat builder, Sail GP, in New Zealand to design and manufacture the structural composite tubing of a new wing for the SAIL GP F50 Catamaran.
The F50 is a cutting-edge one-design catamaran used by all SailGP teams. A culmination of 10 years in high-performance, foiling, and multi-hull racing development, the F50 was the first boat to hit 92.6 km/h (50 knots/57.5 mph) during a race and has a predicted top speed of 96.6 km/h (52.2 knots/60 mph).
Strong, stiff, and incredibly light, the wing has powered the catamaran to incredible speeds and has made for some truly spectacular racing. At the same time, the F50 foils are made from high modulus carbon fiber, culminating in a much thinner section with less resistance at higher speeds.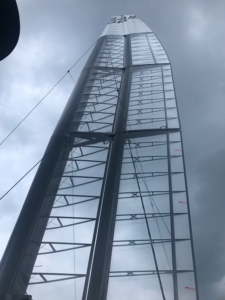 The Sail GP 50 Catamaran Wing, made from I.C.E. supplied composite components.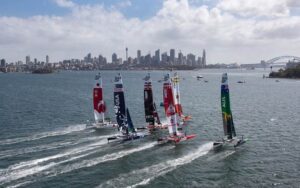 The Sail GP Fleet in action in Sydney Harbor. 
Composite Manufacturing Expertise 
From mast and boom assemblies and composite structural tubing to sail track tubes and custom carbon fiber tubing, Innovative Composite Engineering has decades of experience providing high-quality custom-made composite parts to the marine and sailing industry.
We manufacture many boat parts, including tillers, tiller extensions, masts, driveshafts, steering tubes, spinnaker poles, booms, bowsprits, tie bars, drag links, sail battens, mast sockets, stanchions, and high-end shade support poles.
Sailboat classes, we supply parts to include: I-14s, 29ers, 49ers, Moths, J24s, the AC 45 & 75, and now the F50 Catamaran.
Our material properties and composite manufacturing expertise allow us to take drawings and ideas and turn them into parts that deliver top-of-the-line performance. Our innovations have enabled ICE to produce carbon fiber tubing materials ranging from .100″ to over 24″ in diameter, with wall thicknesses from .010″ to over 4″. We can fully customize any size or layup depending on a project's needs.
We specialize in parts that have complex shapes, tight tolerances, and specific weight and strength requirements. You can learn more about our capabilities at: innovativecomposite.com.